[looking]for clan,got a 20..
26-05-2011, 05:25 PM |
Post: #1
flashteckboomzy
hi guys,
i'm looking for a clan.(english or dutch)
i got a lvl 20 assault.i like doing teamplay, and i want a clan, for clanwars,...
and off course, to make me , and the clan better
i'm 15 years old.and live in belgium.
anything else to know ? please pm me
flashteckboomzy!
---
26-05-2011, 06:42 PM |
Post: #3
loctar
Hey, we at Mercenaries International Alliance, MIA clan are recruiting players for Battlefield Play4Free, visit us at
http://www.miaclan.net
if you are 15+ age.
We support COD:BlackOps, MW2, MW, BF Bad company 2, BF 2142, BF2, BFH, AVA and many other games.
Visit
http://www.MIAGaming.net
if you are a Console Gamer.
Our recruitment thread:
http://battlefield.play4free.com/en/foru...p?tid=7740
Our teamspeak address:
64.34.180.228 port 10018
thanks,
[MIA] loctar
We always have someone playing thanks to our massive roster..(70 members playing P4F, 120 for 2142 and 50 for BC2)
Our Teamspeak might look empty when you join but thats because you arent registered on it, just wait for a few minutes and someone will join you in your channel and fix you up [/u][/b].
26-05-2011, 07:40 PM |
Post: #4
[NwT]ARCHMAN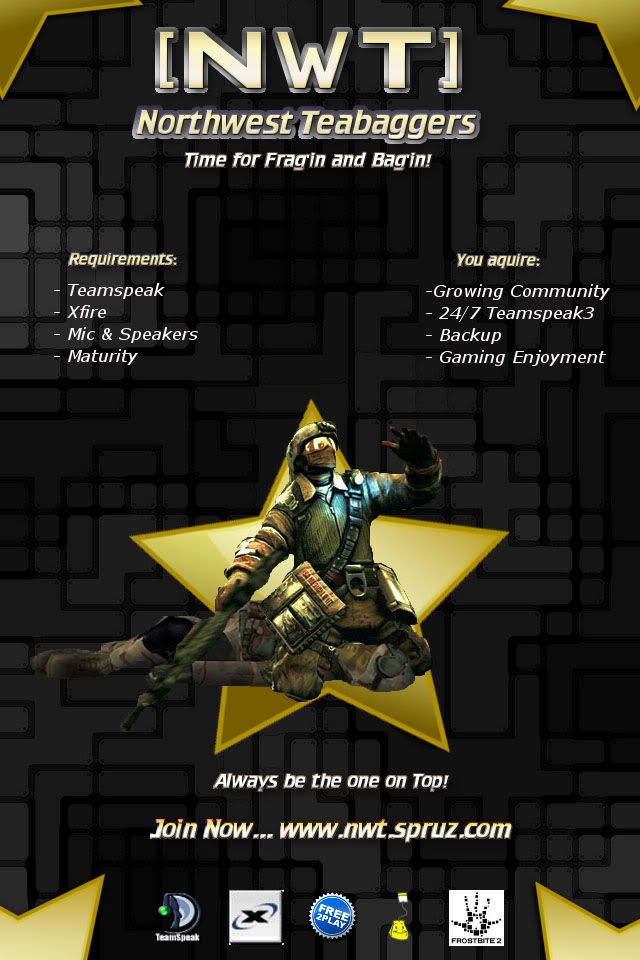 www.nwt.spruz.com all levels welcome!
26-05-2011, 09:22 PM |
Post: #5
Stormstar4
hey,
weet niet wanneer je jarig bent, maar als dat binnen een maand is mag je onze clan joinen:
http://www.doubledutchclan.nl
even een accountje aanmaken en een nieuw topic op het forum maken onder dd joinen.
werkende headset/ micro is verplicht
stormstar
27-05-2011, 11:26 PM |
Post: #6
[L3]Refurinn
28-05-2011, 01:43 AM |
Post: #7
FABIO181
DEIXA EU ENTRAR
28-05-2011, 08:26 AM |
Post: #8
Tanis
This topic does not follow the
guidelines
in the
Clans section.
To minimize unnecessary bumping of topics posted with the wrong title, contents or language, warnings are no longer given, nor is the poster given a chance to edit his error.
You are welcome to post again, provided you follow the guidelines described in this topic:
[READ ME] How To Post In Clan Forum
---
[img]http://img535.imageshack.us/img535/655/taniscmsigd.png[img]
---