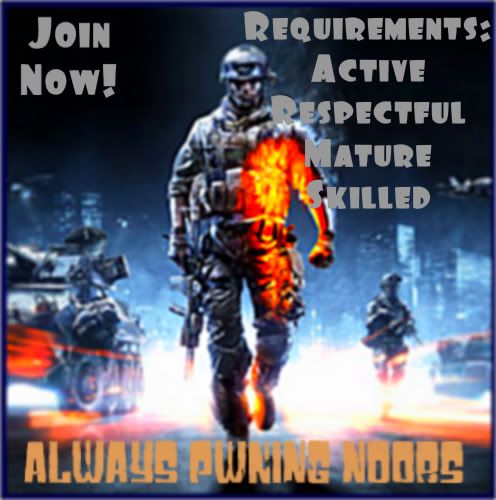 This is not me, not made by me, just a vid I found and thought was great for this thread! I'm not trying to be mean!
AlwaysPwningNoobs is a new BFP4F clan!
We are simple, basic, strong and epic pwners! We're also an international community!
http://www.alwayspwningnoobsclansite.enjin.com
We are in Halo:Reach, BFBC, Mag, MW2 and probably MW3 soon
I'm currently saving up for a clan server and Teamspeak because money doesn't grow on trees!
To join, which I/we hope you do, just tell me your class, lvl, main soldier and what you're strongest at on the Battlefield (ex. knifing, cqc, long range support, short range support, healing etc. etc.)
NOTE:APN is a no-hacker clan, if you're a hacker,cheater,troller or a disrespectful meanie, you're chances of joining an epic clan (this one, duh? what else?) aren't good Also, tell me you're Youtube name so I can see your vids if you have one. You must friend me to be in the clan. No age restrictions and limits, cause we want EVERYONE! to enjoy the game and this clan! I'll join a match watch/compete you and see your skill! Have fun! See ya'll on the battlefield!